We're closing on our first home this Friday! That's right, as of Friday evening, we should be holding the keys to our very first house.
We signed away our life (aka finalized our mortgage documents) this Saturday and finally on Sunday night, decided to start packing. Thankfully we only have a one bedroom but even so, I am surprised at the sheer amount of
stuff
we have.
Several boxes of books (Goodwill wouldn't take the magazines, even my beautiful foreign edition Vogues) and clothes have already been donated. I've stuffed up a huge suitcase and several laundry bags full of clothes, a few bins full of makeup and toiletries, etc. and I've barely made a dent.
As part of the procrastination from the more mundane aspects of closing on our house, we've taken to furnishing our dream home instead. After the signing on Saturday, we had a nice brunch at Il Fornello in Bayview Village.
(Did I mention I drove all the way from Markham to downtown Toronto inclusive of the Bayview Village pit stop?!! Granted, it was down Bayview and white-knuckled but I did it! I'm almost ready to contemplate getting my G2 license)
After lunch we walked around a bit and I discovered they had a Restoration Hardware!! I FAINTED. I know the 2011 Sourcebook (
read post here
) was not well received by the blogging community to say the least, but I just loved it. And I was delighted to discover that Cam was equally as impressed by their style. The dark all-over slate colored walls and trim, the oversized furniture, the monochromatic palette, the cavernous feel. SO US! We oohed and aahed over the wares and both fell in love with the
Belgian Slope Arm Sofa
.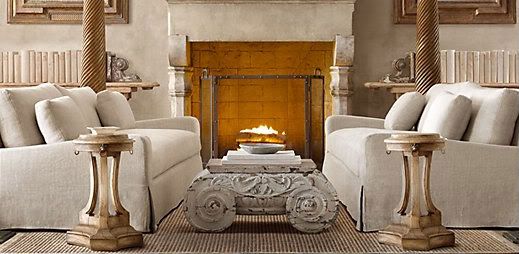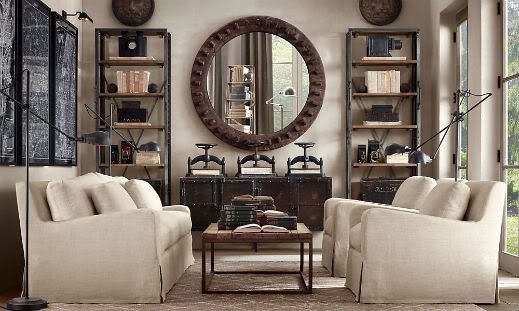 It may not look like much but the sloping arms are just so comfortable and the down -filled cushions (YES, DOWN!!) were just divine. We saw a young boy curled up in one playing on his Nintendo and I could just imagine that being me, plus a nice big glass of wine. The particular model we like - 7' wide, 37" depth, 100% Belgian linen in Sand, down-feather fill - comes in at just under $3K after tax. YIKES!
So. That was that. And now we're back to reality this week with packing, packing, and more packing.