I'm not much of an eye pencil person. I prefer liquid liner, specifically the felt-tip pen type. But being a "makeup enthusiast" (new phrase?), I do like to have a few to round out my collection. And some of those few are actually one and the same.
What I mean is...
This is my 4th, yes
fourth
Urban Decay 24/7 Glide-On Eyeliner in Bourbon. My first one came as part of a 2008 holiday 5-eyeliner gift set called "Velvet Rope" (
read original review here
). My 2nd and 3rd came as part of Urban Decay's 2009 Summer "Get Baked" palette (
read Makeup & Beauty Blog's review here
). All 3 previous ones were travel sized and quickly used up.
Recently I purchased my fourth and perhaps final one. And I have to make it clear that the only reason this may be the last one is to give other eyeliners out there a chance. But if I was left on a lonely island with one hot firefighter and one pencil eyeliner? I'd stick with the UD 24/7 Glide-On in Bourbon.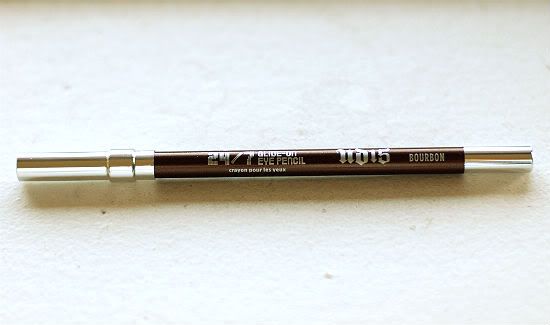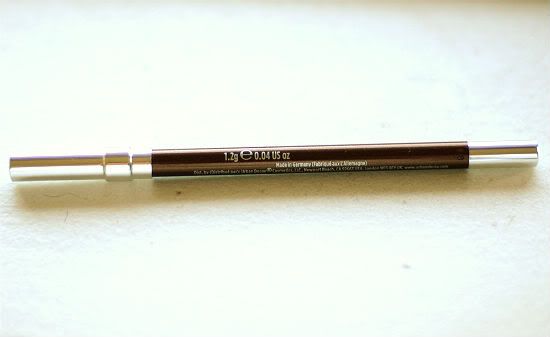 I love the packaging. I love that the cap and end are metal, that the color is metallic. I'm also a fan of Urban Decay's gothic font these days.
Below is the ever present Revlon lipstick as a size comparison. This full-sized version I would keep at home. UD frequently releases smaller versions of their eyeliners as part of gift sets. The holidays are right around the corner, so this is the perfect time to pick one up!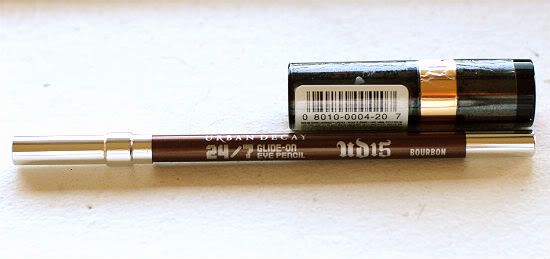 Bourbon is described as a "glimmery dark brown" on Sephora's website. I would describe it as a chocolate brown with fine specks of gold glitter.
In short, it's BEAUTIFUL.
The longer winded description is that this eyeliner goes on buttery smooth, is long lasting, and gives just the right amount of sparkle. I hate liners and shadows with too much glitter you end up looking like a disco queen. I also hate liners that pull at the soft skin of your eyelids. I also
also
hate liners that line the lid of your eye because they have absolutely no staying power.
Which is why I love the 24/7 Glide on Pencils. Why Bourbon? It's the perfect transition between my daily eyeshadow and my daily eyeliner. It's that friend that gets along with everyone.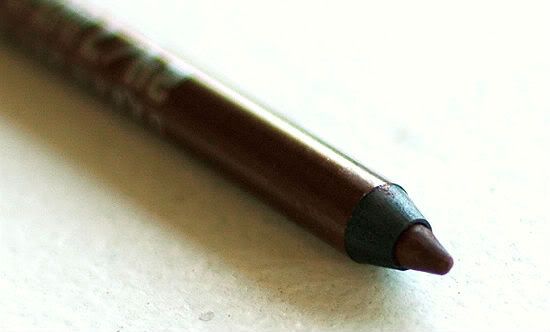 My default look is two eyeshadows - one lighter, one darker - usually in some variation of a brown or champagne and then dark black liquid eyeliner. I sweep the lighter color over my lids, then the dark color on the corners. Bourbon is perfect just above the black eyeliner to soften it out.
And if I'm going dramatic or need something very long lasting, it's also soft enough to act as a base shadow for a similar shade as shown below.
Isn't it beautiful? I think this particular color works well on all skin tones, light to dark, pink to olive to yellow.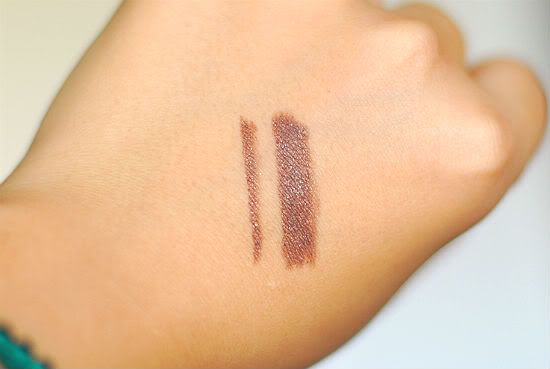 The full size is 0.04oz/1.2g and sells for $18USD/$22CDN at Sephora.