Per my post last Saturday (
read it here
), I picked up the latest Sephora 500-point perk recently. The offer was for a 5-piece Tarte Amazonian Clay "Try It" kit. This post is a review of each product within the kit.
Mineral Powder Bronzer in Park Avenue Princess - 0.11oz
(Full size is 0.32oz for $29US/$38CDN)
This bronzer is oil, talc, and fragrance free. Park Avenue Princess is a pearly golden tan and absolutely gorgeous. The same color also comes in a waterproof matte version and there is a third color called Hotel Heiress, which is a dark shimmery bronze.
This is such a beautiful bronzer! The color is perfect for that sunkissed look - it is more golden than orange. The powder goes on as a pearly shimmer without any glittery or chalky fall out (which I've certainly experienced with other mineral-based bronzers before). Because the powder is finely milled, it's quite buildable. Several light layers creates a very natural but luminous look.
I'm liking this over NARS Laguna bronzers because it's slightly more subtle. The less velvety texture of this bronzer allows you to pick up just enough product whereas I find it's easy to pick up too much with the NARS if you're not careful.
This is a powder I would definitely consider repurchasing...although I think the generous sample size will last me quite a long time.
On another note, isn't the bronze croc embossed packaging just gorgeous?!
LipSurgence Natural Matte Lip Tint in Lively - 0.1oz
(Full size is 0.1 oz for $24US/31CDN)
I absolutely love the LipSurgence line. There are 3 types - Natural for creamy color, Luster for shimmery color, and Matte for a flat finish. All provide excellent payoff and the colors ranging from subtle to extremely bold are all absolutely gorgeous and on trend.
As the name implies, the LipSurgence line focuses on providing a generous dose of moisture along with color. This Matte one in Lively is no exception.
The color is stunning. It is a very intense hot pink. Seriously, a jump off my lips kind of pink! I don't think I'm brave enough to wear it out but I thoroughly enjoyed prancing around the house with it on because it is H-O-T!!
It is definitely dryer than the regular lip tints, but like my favourite Revlon Matte line, it is still way more moisturizing than some of the other ones on the market. I recommend using a waxy lipbalm as your base, like classic Burt's Bees, if you want to keep the shine down but add more hydration to the lips.
I also find the chubby pencil style applicator really easy to use. Just twist to get more product. You won't get the wobbly lipstick (you know, where it gets all over the sides of the tube? Ick!) nor smooshed cap (another ick!) problem here.
I am
definitely
repurchasing more LipSurgences after the positive experience with this one. Perhaps I'll try one of the Lusters and Natural ones next.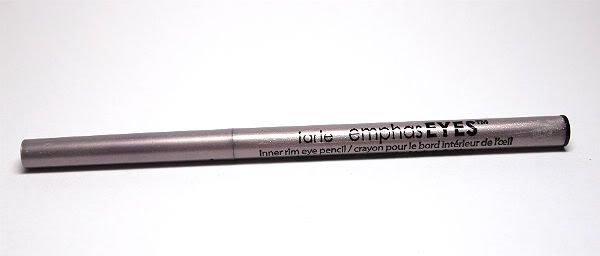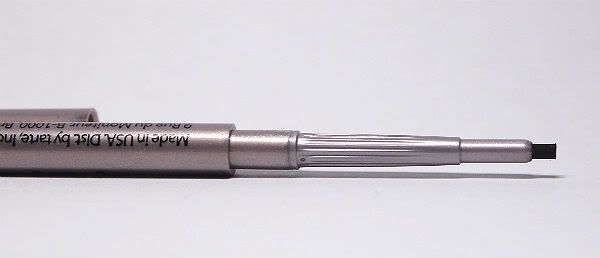 EmphasEYES High Definition Inner Rim Eye Liner in Black - 0.001oz
(Full size HD eyeliner is 0.001 oz for $18US/$23CDN)
This pencil is tiny! I doubled check the size on Sephora to confirm that it's full sized but they do not sell this specific product. There's the regular HD eyeliner which is the same size and price. However, Tarte's own website does have this product but as Devildeb89 commented on my previous post, that one is 0.002 in size. However, that one pictured had a black "cap" on the end of the eyeliner which I suspect makes up for the larger size. We both suspect this may be an older version of the product.
It
is
meant for lining the inner rims of the eye so I guess the very thin core is appropriate.
The product comes up via a click and twist method but a word of warning. It does not allow you to retract. Unfortunately, I had twisted up a little too much and had to break it off.
It contains silicone and is supposed to be "super creamy, long wearing designed specifically for the sensitive inner rim". Unfortunately, I did not find this to be the case.
The pencil is dry, similar to some cheaper drugstore lines. I found a light application barely put any color on my inner rims but a heavier application hurt the sensitive skin in that area. Dry and difficult application, miniscule amount of product, and bad packaging? I would definitely
not
buy this again.
ReCreate Silicone-Free Primer - 0.3fl oz
(Full Size is 29.5ml/1oz for $32US (couldn't find price in $CDN))
This primer is the counterpart to the ReCreate foundation which has the same Wrinkle Rewind technology. It claims to smooth skin, minimize pores, and of course, tackle wrinkles. It's appropriate for sensitive, oily, and acne-prone skin.
I always take in anti-aging claims with a large dose (or more accurately, a
bucket
) of salt. But as a primer? This one is pretty awesome.
I really like that it goes on like a light moisturizer instead of that slippery cloaking feel silicone-based primers give. On that note, it's quite moisturizing so I recommend letting it settle for 10-15 minutes before applying foundation, particularly if you use powder.
Despite it's moisturizing qualities, it isn't oily so while I don't find it particularly mattifying, it certainly does not create shine.
Would I purchase this again? No but really it's just because I have so many primers already, both sample and full sized.
I would recommend this if you have dry skin but at the same time, are prone to shine during the day.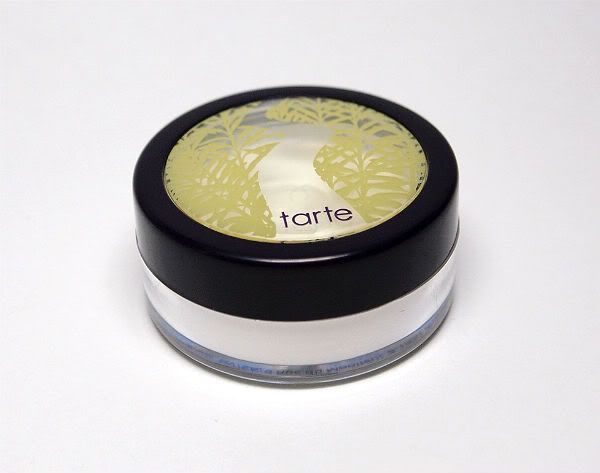 Smooth Operator Micronized Clay Finishing Powder - 0.07oz
(Full Size is 0.32oz for $28US/$36US)
This is a translucent powder meant for application post foundation to mattify and minimize pores. It can also be applied over concealer to prevent it from "migrating into fine lines, wrinkles, and dried, damaged skin."
My first reaction to this powder was surprise at just how finely milled it is. It's incredibly silky and weightless.
I never use finishing powder over my foundation. Heck, I rarely even use powder but I tried this today and it held up wonderfully. It kept my t-zone matte for a few hours (Which is quite good, IMO!) and did not emphasize the dry areas on my face. I took a photo of myself with flash and did not get the dreaded powder face a la Nicole Kidman (Hust google it. Will give you a giggle!). It's a very easy to blend powder.
Because it's so finely milled, the full size should last you
forever
. I won't repurchase just because it's not a product I use but if you do? This powder not only does the job but is also great bang for your buck.
And to finish off this post, here are swatches of each product. I didn't blend in the primer or finishing powder so that you can see the product. Once blended, it is clear.