I am so excited every time Maybelline comes out with a new mascara. Not only is their packaging super cute yet durable and their prices affordable, their mascaras are really
really
solid. It seems with other brands for every hit there's a miss but with Maybelline I've had
way
more hits than misses.
Of course, that's in the last few years. I have found that the older releases from the Volum' Express and Great Lash lines (I've lost count of how many they have!) just don't do the trick for me.
I am East Asian with very fine, sparse, and straight lashes that do not like to hold a curl. Because they are so feathery light, any weight (mascara!) will undo my freshly curled lashes. So the only solution are mascaras that will bind the curl in place. Waterproof mascaras seem to hold the curl much better (I guess because they bind to the lashes better?) so you'll see that my reviews are almost exclusively for these versions.
On that note, let's get to the review shall we?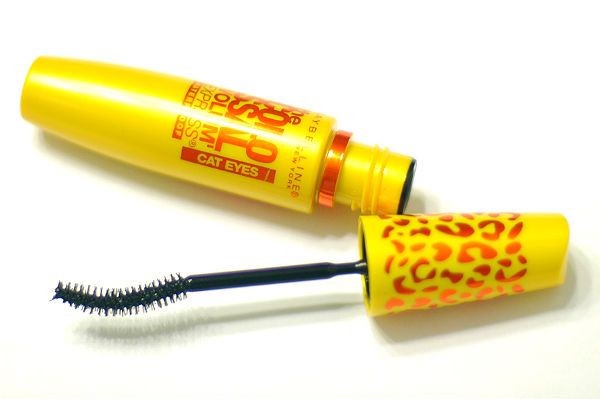 First off, I just adore this packaging. The orange leopard print is a fun feature and makes this mascara such a fun thing to pull out of my makeup bag each morning. I also really like the tube - it's similar to the Covergirl Lash Blast ones. The thick tube allows for a good grip while applying.
The formula is great. Of course, it's a little wet as this is a new tube but it's not so liquid that I cannot blink for a good minute. About 10-15 seconds after I apply, I can bat my lashes without getting mascara on my eyelids. I usually prefer mascara after I've used it for a month when the formula dries out a little. It is a thinner formula than I've become used to since my last few have been fibre-infused but you know what? It works just as well!
In terms of volume, the first coat is average - not too thin, not too thick. However, unless you have very thick lashes, you'll want more than one coat. I use 2 full coats then lightly wiggle a third coat on to add a little more volume while separating a few lashes that have become caught together (due more to the way my lashes grow than the product). I do want to note that this mascara is not clumping and in fact quite good at coating individual lashes.
The thin curved brush is great for getting right down to the roots of my lashes without getting into my contacts. It often happens with longer bristles or thicker centers like on the Lash Blast applicators (I can't see around it so bam! It hits my contacts...). It doesn't create "cat eyes" for me but I can see where the name comes from. For those with longer lashes, I imagine you would use a thicker brush to volumize and these on the corners to define and lift the last few lashes. My lashes are short/sparse enough to use on the entire span.
I applied this mascara at 9AM this morning and it is now midnight. My lashes have not drooped at all which is usually only the case with fibre-infused waterproof mascaras for me. My lashes have grown a little longer these fast few years so these days my main concern is curl and this really delivers just as good as my fave Maybelline Falsies.
There was a slight bit of smudging by early afternoon on my eyelid but light enough I could lightly rub off without affecting my eye makeup. There was no smudging in my undereye area which has occurred with other mascaras, particularly non-waterproof ones.
If you're curious, I've compared it to 3 other Volum' Express mascaras - Turbo Boost, Falsies Flared, and Falsies Black Drama. You can see that the tube is the same, just a different color. However, the brushes differ in shape. The thickness of the bristles are similar in the Cat Eyes and both Falsies. The Turbo Boost is short and thick. The Turbo Boost is also one that absolutely did not work for me, even though waterproof...
Not shown is the original Colossal as it was a work. However, here is a link to that review. I will say that I prefer the Cat Eyes version to the original by far.
Maybelline Volum' Express Colossal Cat Eyes Waterproof Mascara in Glam Black is available at most drugstores and discount department stores such as Walmart and Target. It retails for $5-10 depending on place of purchase.