I tend to go with non-drugstore brands for eye shadows because I find drugstore brand eyeshadows (Rimmel, Maybelline, Covergirl, etc.) tend to be coarser, too powdery, less pigmented, etc. There's been a few gems here and there but I'm willing to pay a bit more to try the formula before I buy.
For lips however, I only go with higher end brands for their color and sometimes the fabulously pretty packaging. I find that most drugstore brand formulas (with the exception of those $1-2 ELF, NYC, or Wet 'n' Wild lipsticks which are totally hit or miss) work just as well as their designer sisters.
One of my favourite drugstore brands for lip color is Revlon. Maybelline and L`Oreal have really stepped up their game recently with their respective Color Sensational and Infalliable lines, but I just love the look of Revlon's black and silver packaging on their Matte and ColorBurst lines, especially the quilting on the latter.
The product inside does not disappoint. Replace "Revlon" on the packaging and I'm not sure you would really notice a difference between it and some of the more expensive department and boutique brands. The pigmentation in their ColorBurst lipsticks are great (
read my review here
) and the same can be said of the lipglosses.
I reviewed the gloss in Strawberry back in June and loved it so much (
read my review here
) that I recently picked up 3 more colors: Fire, Sienna Sparkle, and Papaya.
Fire
is a creamy bright red. It is very pigmented and can be built into a opaque high gloss - think sexy red heels! I would wear a very sheer layer for the office and apply with a heavier hand for night.
Sienna Sparkle
is a plummy brown with gold shimmer. This is a beautiful shade but might be a little too dark and brown for pale blondes but for those with more pigmented lips or darker skin, this is a beautiful your-lips-but-better color with shimmer.
Papaya
is a peachy coral with a slight hint of shimmer. This one is semi-opaque and the most wearable, I think. This color would be too pale and Nicki Minaj-esque in a lipstick version so I'm glad there's this gloss alternative.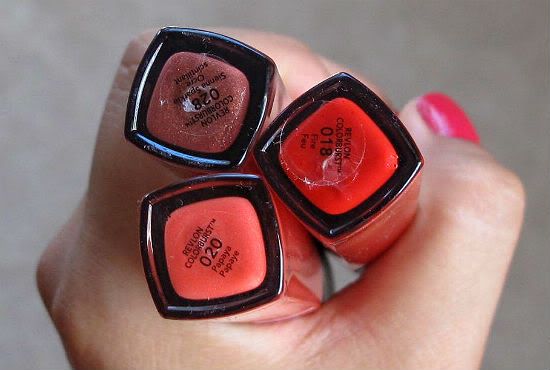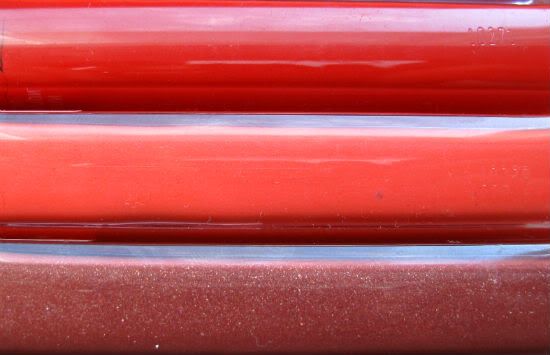 I love the applicators on these glosses. They pick up just enough product and really hug your lips. And the fuzzy part feels so soft! I do wish the plastic "spatula" was just a tad stiffer.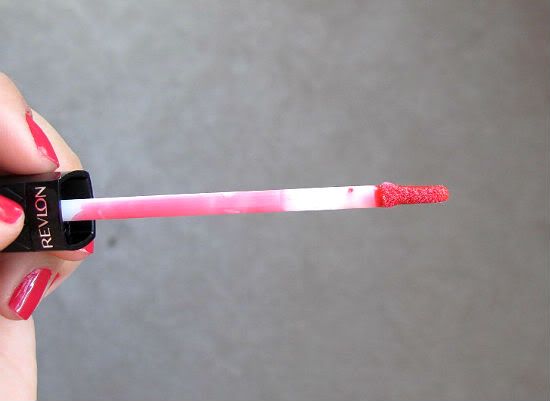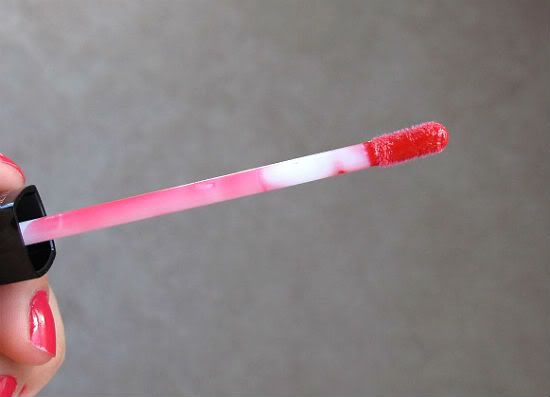 Here's a size comparison of the ColorBurst lipgloss beside a classic Revlon lipstick.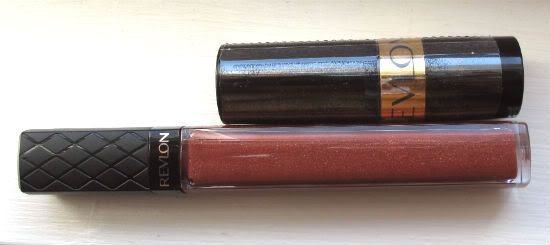 These glosses are not very sticky. I imagine on someone who didn't lick their lips often (I must be one of those women who eats 5 pounds of lipstick a year or whatever the statistic is) this would last a few hours...perhaps the darker/brighter colors a bit more so.
If you're familiar with MAC, I would say they last about the same as Creamsheen or Dazzleglasses.....less than Lipglasses but more than Lipgelees.
I`m really impressed with Revlon and in particular, the entire ColorBurst line. Both the lipstick and gloss are soft and moisturizing yet pack a good wallop of color. And the color selection is great - very fashion forward shades. No frosty pinks or pearly browns here!
The Revlon ColorBurst Lipglosses are available at all the usual suspects in Canada - Shopper's, Rexall, Zellers, Wal-Mart, etc. for $10-11CDN. The lowest price I have seen is $4.99 at Rexall and I give myself a little kick for missing that sale.