Cam's mom came to stay with us this past Saturday. We found out mid-week and at that point, the guest room was still looking like the aftermath of a post-move hurricane.
So Friday night we rushed over to Walmart and Winners, which is about 5 minutes away. We picked up a sheet set (the one pictured - it's reversible!) and a couple pillows. At this point we still didn't even have a
bed
.
Saturday afternoon when she arrived, Cam and her went to Costco and bought a bed. When they came back, we all went out together again to Loblaws for a shower curtain, wastebasket, hand towels, and a few other things.
I was really glad she came to stay with us. She's such a sweet lady and always a pleasure to have around. But on a more selfish new-homeowner level, she was our push to keep unpacking and start getting our rooms in order.
Here's a photo of the before (this is
after
I already moved several boxes out of here into the study aka. jam-packed junk room) and what I call the "during...".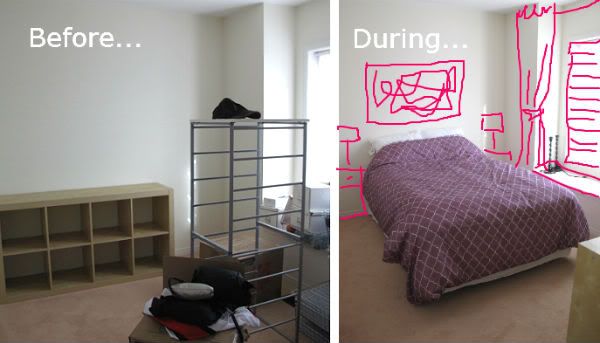 There's still a ton of work to be done but we're really excited to have gotten a start. Here's the to-do list for this room:
Nightstand and Lamps
Cam saw a nightstand he liked at Sears but at $130 each, that's just under $300 after tax! I find Toronto Craigslist very disappointing - the good stuff is snatched up as soon as it's listed and everything else is either junk or way overpriced. I'm going to keep an eye on estate sales and third stores for potential DIY projects.
I may use the lamp bases pictured by the window above but if the nightstands are too small, I will use them for the master bedroom instead as I'm planning on larger nightstands there.
Window Treatments
I'd like to do plain white blinds. Walmart has faux wood ones that actually look quite decent. They're thicker than the generic plastic/metal ones but not as expensive as real wood (approx $50 versus $200+!). To take the focus of the blinds, we'll hang floor-to-ceiling curtains on the outer border of the window.
Eventually, I have in mind a DIY padding project for the bench area to create a little reading nook.
Color Palette
This room is currently a generic light cream - the kind contractors use. Because this room gets the most sunlight, I'd like to paint it a bright white. It's a color I find really difficult to work with in reality (magazines make it look easy!) when you don't have a lot of natural light in the house. This will also allow us to change up the color palette easily.
For art, I'd like a color painting or print on a large white canvas and if budget allows, a thin gallery frame. Something that has enough colors to easily pick up on the potentially changing palette in this room.
Storage
The small IKEA Expedit has been moved to against the wall at the foot of the bed (you can see a little corner of it in the During... photo. I'd like to refinish that in white (will have to look up tips on painting over laminate). IKEA also has baskets and boxes made specifically to its dimensions. Here's a few of the straw options:
Branas
,
Pjas
,
Nasum
. They have quite a large selection.
Anyway, that's it for now! Not much of a visual update now but my dad is staying for a week during Christmas so I'm hoping to have more finished before then.
*If you're new to my blog, you might also want to check out these previous posts featuring my mouse-enabled drawings: 1. Bedroom Layout and 2. Living Room Layout.
The hot-pink just makes things look so professional, no? ;)